Serving the Truckee Meadows Community with Integrity
The Truckee Meadows Fire Protection District (TMFPD) was established in 1972, and at the time, TMFPD covered and protected 550 square miles. We have now expanded our reach to over 6,000 square miles across Northern Nevada. We now serve the unincorporated areas of Washoe County which includes the areas not governed by its own local municipal corporations.

As locals who have strong ties to the community, the Truckee Meadows Fire and Rescue department is committed to preventing emergencies and keeping the folks of Northern Nevada safe. We are dedicated to serving our residents, visitors and communities of Washoe County with high quality advanced paramedic support, fire-rescue service and fire suppression. Also, we promise to maintain constant readiness all times of the year and we respond to many types of emergencies, not just fires.

Our History
When we started in 1972, we were a collection of volunteers who were passionate about our community. Since then, we've grown to be made up of professional firefighters with extensive fire and safety training. Our 11 stations range from Cold Springs in the north, Washoe Valley in the south, Verdi/Mogul in the west, Hidden Valley in the east, and everywhere in between.

On July 1, 1974, the first Truckee Meadows Fire Protection District Firefighters were hired. While volunteers of the fire department were talented and passionate about their work, the need for a full-time team of trained and licensed professionals grew too strong. As masterful firefighters were hired, the department also started making moves to work with other nearby departments such as the City of Sparks and City of Reno firefighters. This critical event led to the Protection and Rescue division we know and love today.

Truckee Meadows Fire and Rescue Today
Independent Operations
2012
Since the official hiring of the deputy fire professionals, the Truckee Meadows Fire Protection District has made many changes, including their name. Now, TMFPD goes by Truckee Meadows Fire and Rescue and in 2012, the District began operating independently once again. They still ensure their fire and related emergency services remain uninterrupted and as successful as ever.
Protecting Our Community
2020
Today, TMFR is a community driven organization that aims to protect and educate the Northern Nevada area. We strive for high quality advanced life support (paramedic) fire rescue and fire suppression across the eastern slopes of the Sierra Nevada Mountains from the California to Oregon borders
Public Safety
2020
In addition to paramedic and fire suppression duties we also understand the importance of community education and prevention measures. We want to inform the public about fire safety, fire regulations and safe fire practices.
Volunteers and Ride Alongs
2020
Our Fire Prevention Division is equipped to serve the community for plans of review of new construction, existing businesses and fire prevention. We also offer Public Education and Community Risk Education Programs, volunteer opportunities and ride alongs for people of all ages including those under 18.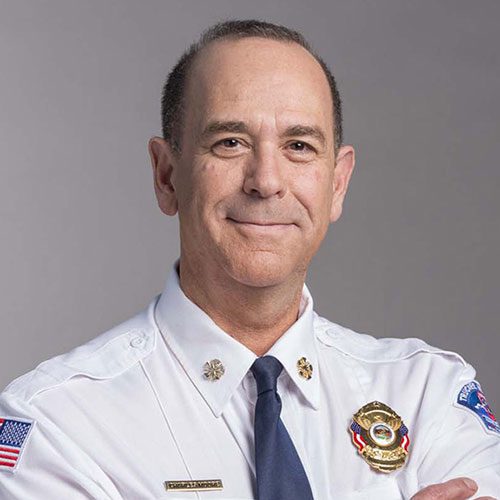 Meet Fire Chief Charles Moore
Charles Moore - Truckee Meadows Fire Chief Since 2012

Chief Moore has been a dedicated fire professional for nearly 40 years, helping citizens and communities manage risk and increase their safety.