Serving the Truckee Meadows Community with Integrity
The Truckee Meadows Fire Protection District (TMFPD) was established in 1972, and at the time, TMFPD covered and protected 550 square miles. We have now expanded our reach to over 6,000 square miles across Northern Nevada. We now serve the unincorporated areas of Washoe County which includes the areas not governed by its own local municipal corporations.

As locals who have strong ties to the community, the Truckee Meadows Fire and Rescue department is committed to preventing emergencies and keeping the folks of Northern Nevada safe. We are dedicated to serving our residents, visitors and communities of Washoe County with high quality advanced paramedic support, fire-rescue service and fire suppression. Also, we promise to maintain constant readiness all times of the year and we respond to many types of emergencies, not just fires.

When we started in 1972, we were a collection of volunteers who were passionate about our community. Since then, we've grown to be made up of professional firefighters with extensive fire and safety training. Our 11 stations range from Cold Springs in the north, Washoe Valley in the south, Verdi/Mogul in the west, Hidden Valley in the east, and everywhere in between.

On July 1, 1974, the first Truckee Meadows Fire Protection District Firefighters were hired. While volunteers of the fire department were talented and passionate about their work, the need for a full-time team of trained and licensed professionals grew too strong. As masterful firefighters were hired, the department also started making moves to work with other nearby departments such as the City of Sparks and City of Reno firefighters. This critical event led to the Protection and Rescue division we know and love today.
Celebrating 50 Years of Service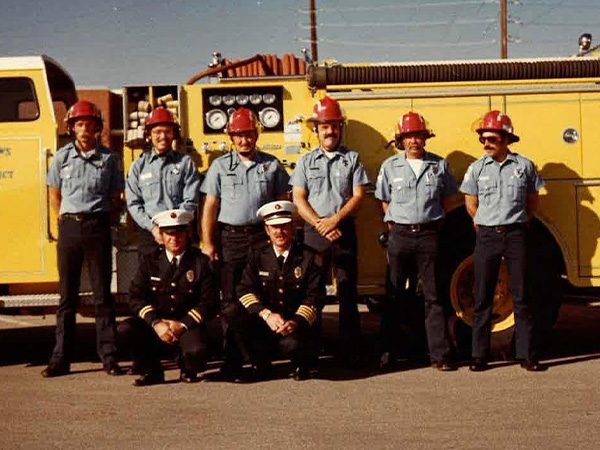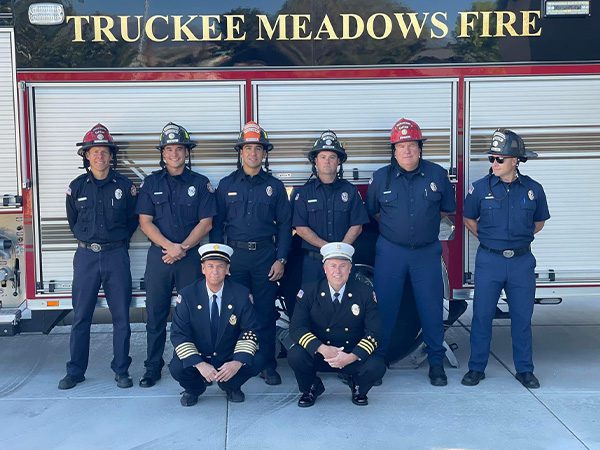 The year 2022 marks the 50th anniversary of Truckee Meadows Fire Protection District (TMFPD)! We honor those who served these past 50 years; they put in a lot of time and talent into protecting our community. We are grateful for their commitment and heritage to the fire service. Download our TMFPD Timeline History Booklet to learn more about our 50 years of service.
Access TMFPD 50th Anniversary Timeline & Scrapbook
Truckee Meadows Fire and Rescue Timeline
The Beginnings
1972
The Nevada State Legislature established the Truckee Meadows Fire Protection District (TMFPD) through Nevada Revised Statue (NRS) 474. The governing board for the Fire District would be the Washoe County Board of Commissioners. John B. Irwin, (formally Assistant Fire Chief of Sparks, Nevada) was appointed the first fire chief.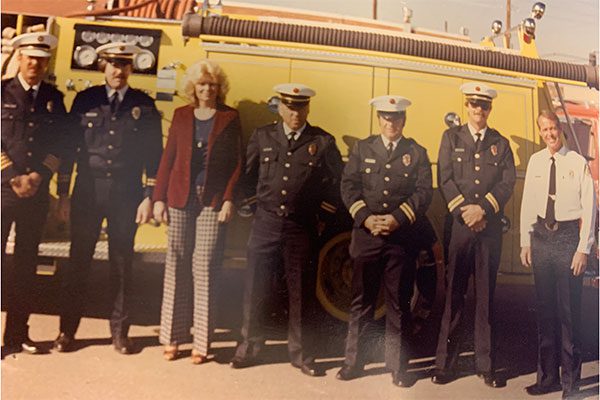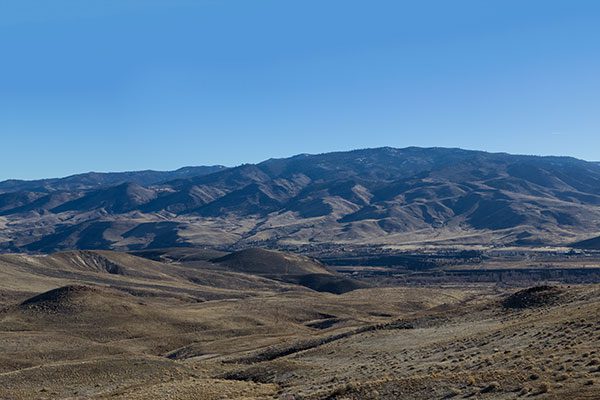 Sierra Meadows Volunteers
1972
There were ten organized Volunteer Fire Departments under TMFPD. They included Washoe Valley, Pleasant Valley, Brown Huffaker, Hidden Valley, Sun Valley, Panther Valley, Black Springs, Lemmon Valley, Silver Lake and Cold Springs. Later, two other volunteer districts, Palomino Valley and Gerlach, would also be included in the District. These volunteer fire departments were collectively called the Sierra Meadows Volunteers.
Fire Chief Kissinger
1973
Fire Chief Jack Kissinger (formally the Fire Chief of North Lake Tahoe Fire Protection District) was appointed in 1973. Under his leadership, the department would grow with the purchases of old military fire apparatus and equipment. Membership of the Volunteer Firefighters swelled to over 200, becoming the second largest county fire department in Nevada, just under Clark County.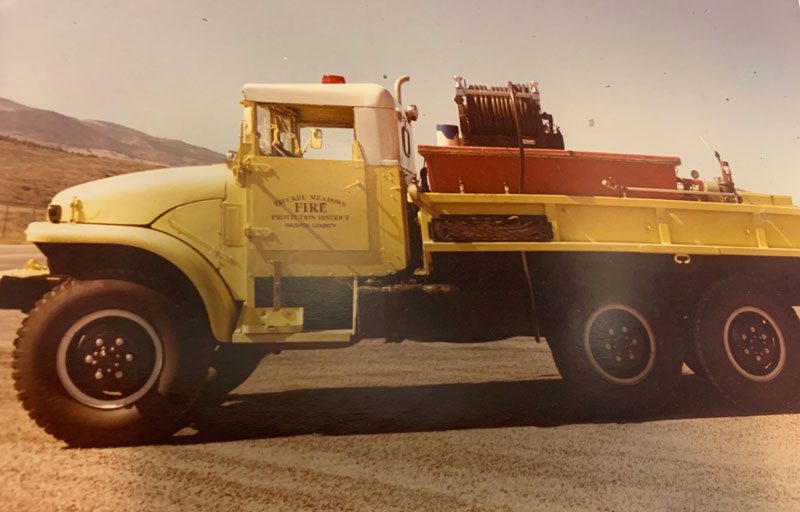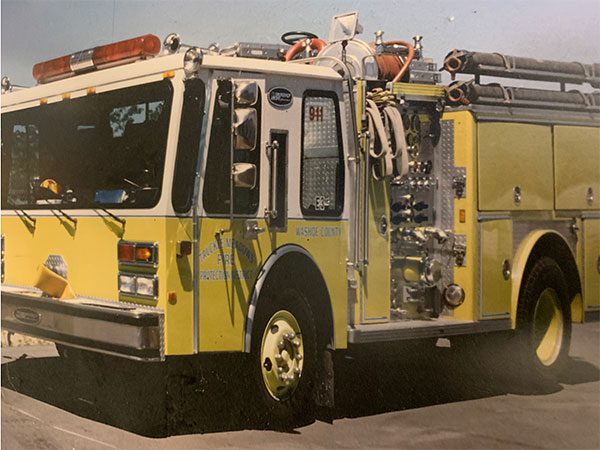 Protecting Our Community
1974
The first engine to respond to calls was an American La France Pumper, identified as Washoe 1. Washoe 1 was housed at the City of Sparks Fire Training Center on 28th Street (the old Hobson's station).
Operational Chief Winkler
1975
In July 1975, Kissinger appointed the first Battalion Chief, John (Ray) Winkler. He was the first Operational Chief, in charge of apparatus and station maintenance as well as fire suppression duties.

Collaboration
1980
The "Sierra Front Cooperators Agreement" was developed in which all cooperator agencies agreed to respond to each other's emergencies, without financial obligation to cooperator agencies during the initial stages of the incident. This agreement was the first of its kind in the United States and this collaboration is still effective today.
Fire Chief LeBlanc
1980
Gene LeBlanc was appointed Fire Chief. During his tenure, new types of fire equipment were ordered that would provide for increased firefighter safety. Examples included fire trucks with enclosed cabs and newer, longer lasting self-contained breathing apparatus (SCBAs). The TMFPD was also the first Fire Department in Northern Nevada to use heart defibrillators.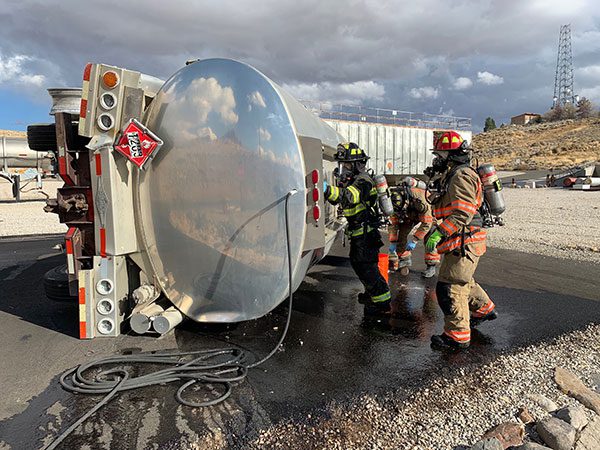 HAZMAT Team
1984
A new regional team was created to deal with Hazardous Materials. This HAZMAT team included members not only from TMFPD but also from the City of Reno and City of Sparks Fire Departments.

Sun Valley Fire Station
2000
A new fire station was constructed in Sun Valley, under the direction of Battalion Chief Gary Neilson. This was the most modern fire station in TMFPD and was the first station to house both TMFPD and City of Reno Firefighters.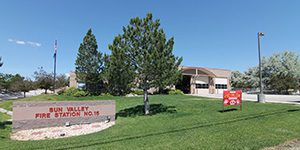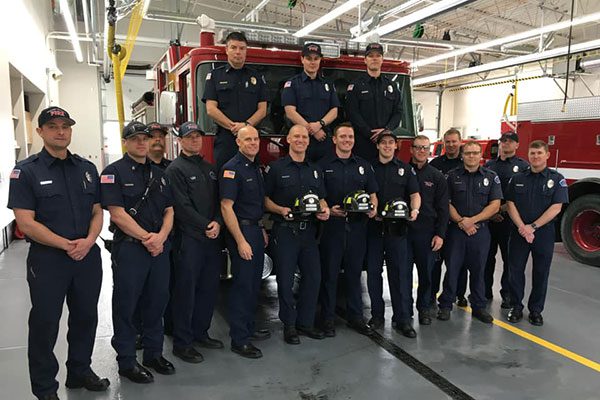 Consolidation of Departments
2000
On July 1, 2000 an agreement/consolidation plan was presented to the Washoe County Board of Fire Commissioners. After much negotiations, Washoe County contracted with the City of Reno Fire Department to operate TMFPD completely.

Fire Chief Charles A. Moore
2012
The Interlocal Agreement for Fire Service with the Reno Fire Department ended July 1, 2012. TMFPD implemented their detailed Transition Plan to ensure fire and related Emergency Services are not disrupted and to take leadership once again of their stations, apparatus, employees, and assets. Chief Charles A. Moore was hired in April 2012 with the District being operated independently once again on July 1, 2012.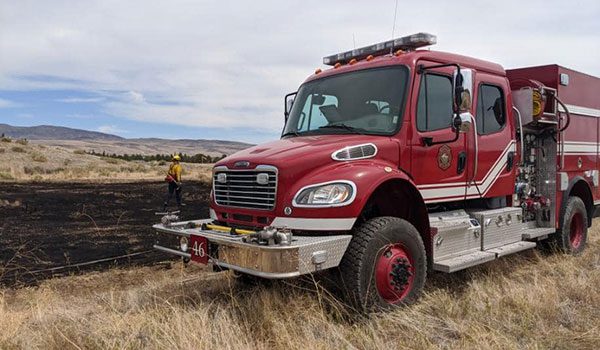 Current
2020
Created Fuels Management Team and relocated consolidated Administration, Fleet, and Logistics to 3663 Barron Way in Reno.