Reno, NV. September 8, 2021 – Truckee Meadows Fire & Rescue (TMFR) has donated a Type I Fire Engine to Indian Valley Fire & Rescue.
On August 4, 2021, three weeks after the Dixie Fire was first reported, the entire town of Greenville, California was burned to include the fire station and all fire suppression equipment. Indian Valley Fire & Rescue provides oversight for the fire stations in Greenville, Taylorsville, North Am, and Genesee, all of which have been impacted by the devastating Dixie Fire.
A surplus 1994 Navistar fire engine currently in surplus was donated. The engine is fully stocked with hoses, extrication tools, power fans, ladder, generator, and other equipment, along with EMS supplies.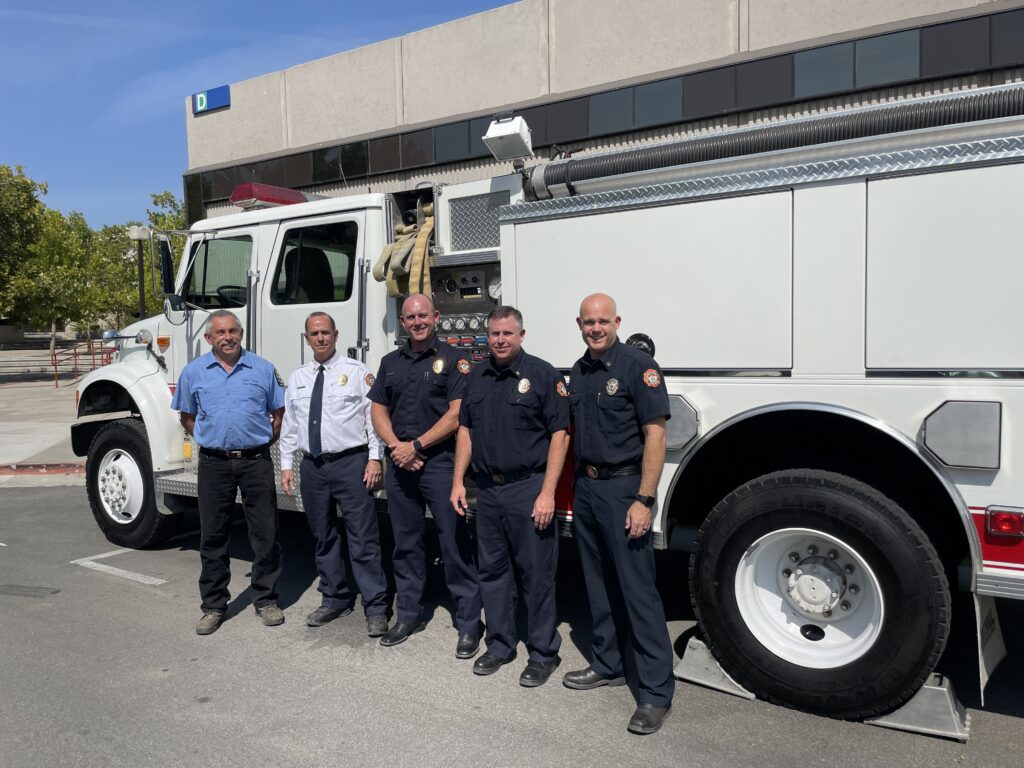 TMFR Captain Shawn Heywood, also the fire chief for the Loyalton volunteer fire department, a nearby community to Greenville, brought the idea forward to TMFR Fire Chief Charles Moore after his department also donated fire equipment.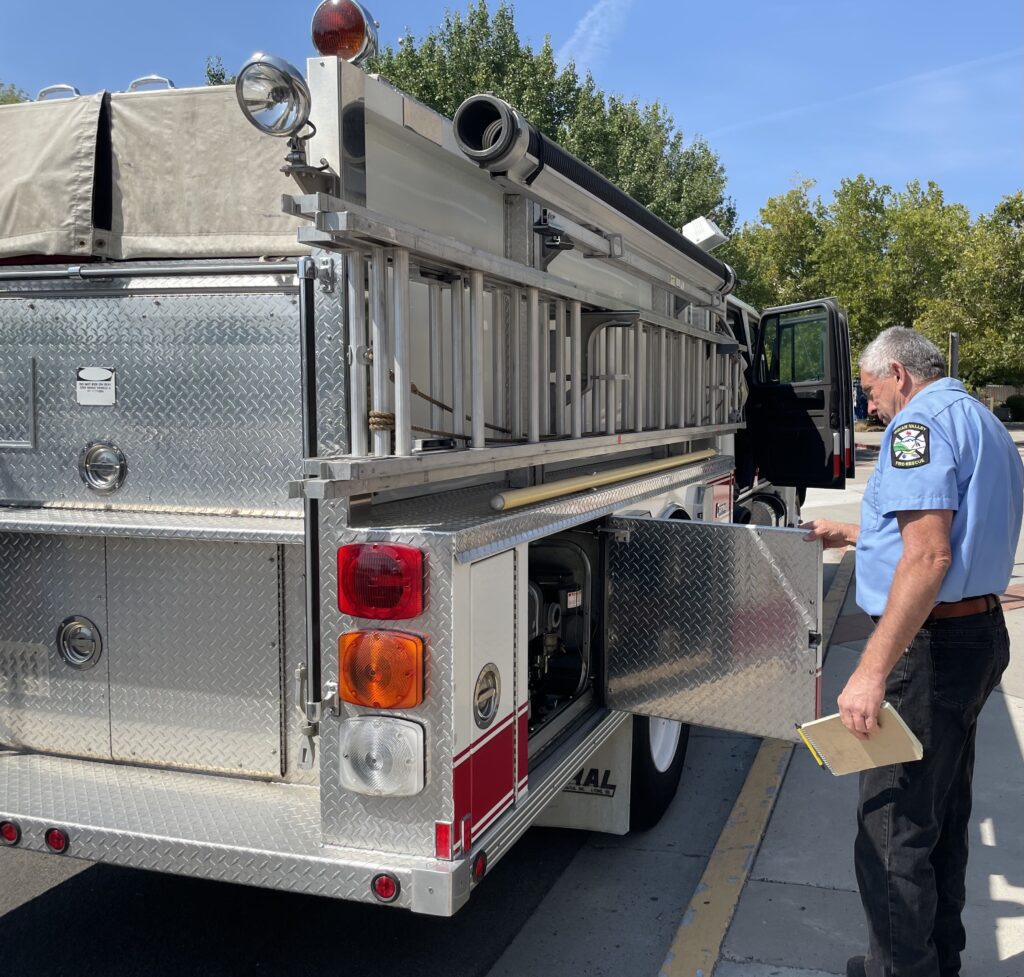 ###
Reno, NV (March 16, 2021) – Truckee Meadows Fire & Rescue will host a COVID-19 drive-through vaccination clinic on Saturday, March 20 from 9 am to 1 pm at Fire Headquarters, 3663 Barron Way in Reno, for patients who are 65-years of age or older.
Doses are limited. Patients must remain in their vehicles; the process is quick and easy. The second dose of the vaccine will be scheduled at that time. More details and sign up here.
Truckee Meadows Fire & Rescue Graduates Nine Firefighter
Reno, Nev. July 16, 2020. Truckee Meadows Fire & Rescue is proud to announce the addition of nine new firefighters.  Late last year, the recruits were selected out of more than 100 applicants to serve as firefighters, with 60 invited to be part of the testing process.  The comprehensive recruitment consisted of a comprehensive application process and written test.  The candidates were also subjected to a rigorous physical agility test.  Final candidates were invited to interview.
In April, the new recruits entered the Truckee Meadows Fire Protection District (TMFPD) to begin their basic training through Academy 20-1, operated by TMFPD and in close coordination with South Lake Tahoe Fire & Rescue who had one recruit in the program.  The academy included several hours of classroom training along with on-hands simulations to include live fire drills, rope rescues, auto extrications, and water rescues.  Five members of the class are paramedics, with four holding emergency medical technician (EMT) certificates and anticipated to become paramedics within a year.
Following their formal graduation this Friday, July 17, these nine rookie firefighters will be deployed into the Fire District's crew schedule and serve alongside senior career firefighters.  The new personnel will fill current and future openings. 
"I am very proud of these new recruits and welcome them to the Truckee Meadows Fire & Rescue Family," said Fire Chief Charles A. Moore.  "They have worked extremely hard and have dedicated themselves to learning their profession and serving the public.  I also want to express my appreciation to our staff that have dedicated themselves to the academy for the last several months to ensure we get the best talent to serve our residents in the Fire District," he said. 
The new firefighters and their hometowns are as follows:
Cameron Chappell – Cool CA
Samuel Dobson – Janesville, WI
Payton Giambrone – Livermore, CA
Bryan Harter – La Crescenta, CA
Tyler Johnson – Genoa, NV
Leslie Parawan – Reno, NV
Chris Perham – Reno, NV
Kyle Printz – Placerville, CA (South Lake Tahoe Fire & Rescue)
Beau Retzer – Reno, NV
Martin Rowson – Loyalton, CA
Reno, NV, July 2, 2020 – The Truckee Meadows Fire Protection District is seeking information regarding the Poeville Fire on Peavine Mountain on June 27, 2020 between the hours of 10:00 a.m. and 11:30 a.m.
If you have any information, please contact Deputy Chief Dale Way at 775.326.6005.
Click here for more information on the Poeville Fire.
Improper disposal of ash and oily rags have caused four house fires the past few months.
Reno, Nevada. Aug. 18, 2015. Truckee Meadows Fire Protection District (TMFPD) Chief Charlie Moore said improper disposal of ash and oily rags have caused at least four structure fires in the past few months. Moore said using a container, similar to what the District offers for free, could have prevented the fires and substantial damage to the homes. Moore told the Fire Board the District will purchase 200 additional cans and distribute them within the next month or so for the upcoming heating and fireplace season. He said they are going to focus on distributing them to Washoe County seniors and then to the rest of the public.
"We want to heighten awareness through our Free Ash Can Program. Disposing of ash and cotton rags soaked with staining oils can be dangerous. Citizens need to know how these fires start in order to prevent a more serious fire in this very dry period of the summer," said Moore.
Commissioner Vaughn Hartung said this program will go a long way in keeping people safe.
"I myself have had to dispose of oily rags in my garage and know the importance of a program such as this first hand," said Commissioner Hartung. "I appreciate your efforts, Chief. This program could save homes and lives."
Reno, Nev. June 22, 2020.  The Truckee Meadows Fire Protection District (TMFPD) will put its first ever quintuple combination pumper, or a ladder truck, in service tomorrow, Tuesday, June 23.
The ladder truck will be based.  at the Fire District's newest Fire Station 33 (470 Foothill Road), a central strategic location.
"We are truly excited to deploy this important apparatus and bring a higher level of service to Washoe County residents," says TMFPD Fire Chief Charles Moore.  The ladder truck will be used to access a high-level water point for firefighting and provide a platform from which tasks such as ventilation, rescue or overhaul can be executed.
The truck has a 100-foot aerial platform used for fighting large scale fires.  It can carry 250 gallons of water capable of pumping 2,000 gallons per minute. It is also equipped with advanced extrication equipment and more tools for rescue and firefighting operations.
The District operates 11 full-time fire stations, and each house a fire engine as a primary response unit for structure fires and rescues. Prior to the purchase of the ladder truck, the Fire District did not own or operate any aerial ladder apparatus which limited the ability of the District to conduct operations beyond the reach of a standard 24-foot ground ladder.
The acquisition of this refurbished apparatus at a cost of $250,000 will enable the District to access roofs and structures up to approximately 100 feet in height. Throughout the Fire District there are many residences, multi-family dwellings,
and commercial occupancies that exceed the reach of the District's ground ladders.
Editor's Note: Pictures attached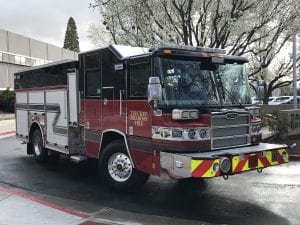 Media Availability to learn more new fire division
Reno, Nev. June 15, 2020.  The Truckee Meadows Fire Protection District (TMFPD) has launched a new fuels reduction division.  The wildland fuels reduction team consists of 5 wildland firefighters and a Division Chief who are tasked with clearing targeted areas that present a significant threat to wildfires.  Currently, priority areas consist of clearing hazardous wildland fuels that rest under power lines. 
The Fire District is hosting an opportunity to talk with the new Division Chief of Wildland and learn more on how the District is working to reduce the threat of wildfires, and how residents can participate.
WHAT: Media availability and opportunity for interview and video on the team performing wildland fuel mitigation
WHEN: Thursday, June 18, 2020 at 10:00 a.m.
WHERE: TMFPD Fire Station 30, 3905 Old Hwy 395 (Washoe Valley)
Working in partnership with NV Energy who is paying for wildland fuel reductions around their utilities, the team ensures a minimum clearance of ten feet radius around each pole, increasing to 30 feet, depending on the type of line.  Fuels are either reduced to a 1-inch height or bare mineral soil.
"We appreciate the public-private partnership with NV Energy as we work towards measures to reduce the wildfire threat in Washoe County," said TMFPD Fire Chief Charles Moore.  "The only way to mitigate the damage wildfires cause is through prevention and preparation."
The fuels reduction team is also a critical resource to support the Fire District and regional fire partners in wildfire suppression operations.  Additionally, as the program expands, the crew can address residential projects to reduce the fire threat if certain criteria are met.